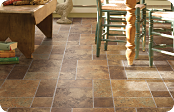 About Vinyl Flooring:
Today's residential vinyl floors (also called resilient floors) are more durable and stain-resistant than ever before. Many of the designs and colors are inspired by nature and will add style and color to any room. Vinyl floor designs are extremely realistic looking, patterns range from simple contemporary designs to beautiful weathered stones to rich hand scraped hardwoods. If you haven't explored vinyl floors for a while you will truly be amazed at the newer vinyl floor offerings.
For any room where the floor is likely to get spilled on, like a kitchen, a bathroom or a laundry room, vinyl is a perfect choice. For any room where the floor is likely to get vinyl, Floors We Do. is an equally outstanding selection. We offer a wide variety of vinyl tiles and sheet vinyl in both 6 and 12-foot widths. You'll also get to choose from embossed, inlaid and printed vinyl--in a whole kaleidoscope of different colors.
If you have pets in the house or hear the pitter-patter of little feet, vinyl is a strong and sturdy choice. Not to mention, ease of maintenance and cleaning also make it ideal for entry halls, dining areas, powder rooms, and family rooms that are next to the kitchen Traffic. Considering the amount of traffic your vinyl will have to stand up to in any room will make a major impact on what level of quality you end up selecting. In a guest bathroom that tends to gets infrequent visitors, for instance, you might very well get away with selecting more of a medium quality vinyl. As a general rule, you should feel free to put higher quality vinyl anywhere; but you should be very careful where you put lower quality material. Because ultimately, you should replace vinyl because you're tired of looking at that pattern--not because the vinyl is tired-looking itself.
Two manufacturing techniques are used to produce sheet vinyl floorings inlay and rotogravure printing. With inlaid flooring, the more expensive and durable of the two, the patterns goes all the way through to the backing. In the manufacturing process, vinyl granules are applied to a backing through a series of templates, giving the design substantial visual depth. Multiple layers are fused together, and then the surface is given a wear layer for protection. With a less expensive rotogravure floor, the pattern is printed with vinyl inks onto a coated mineral felt backing and a wear layer is added.
Pattern. Once you decide upon the quality of vinyl you need, we suggest only looking at the vinyl in that price range. Otherwise, you're liable to fall into the dreaded trap of falling in love within a pattern that's only available in a lesser quality. While one would think that different patterns are available different levels of quality, unfortunately it doesn't work that way in vinyl.

Note.Vinyl flooring, a plastic material, is sold as either sheets or tiles. Sheet flooring is applied from 6-, 9-, or 12-foot-wide rolls; tiles are normally 12 inches square. Sheet flooring is generally used where a seamless look is wanted; another advantage is that it is impervious to damage from water that can seep between the joints of other flooring materials. Installation of sheet vinyl is best left in the hands of a professional or experienced installer. A new era in Vinyl flooring market 14 and 15' 6'' goods for seamless jobs.


---
Copyright © All rights reserved
Top