About Hardwood Flooring:
If you're looking for natural wood flooring then Hardwood flooring is the natural choice. Wood floors are available in either solid, engineered and hand scraped. construction and can be either factory pre finished or be purchased unfinished, allowing you to custom finish it on the job-site. With today's almost limitless range of stains, finishes and styles, we at Floors We Do. able to help you finish that special look that complements your decor perfectly. Not only does it bring a special beauty and warmth to your home, hardwood is also a solid investment. Because it actually will increase the value of your home. As an added bonus, natural wood flooring is an excellent choice if someone in your family suffers from allergies.
Buying Tips for Hardwood Flooring:
Color. Generally darker wood tones lend a more formal, traditional feel to any room, while lighter tones tend to be better suited for contemporary, country and casual styles. But since this is hardwood we're talking about, nothing is set in stone. So by all means, let your personal taste, preference, and style be your guide.
Where to install hardwood flooring: Without a doubt, moisture is one of hardwood's most dreaded enemies. Which is why placing sold wood flooring in a full bath would be a bad idea--because of the heavy moisture content in the room. Likewise, you should avoid putting sold hardwood in any room that, elevation-wise, is lower than the level of your yard outside. Gutters should flow water away from the house. Again, because moisture could become a big problem. Even there is a coating on the surface of the wood, moisture comes from the floor up also, but if you really want to gamble with your investment installing sold hardwood on grade or below grade at least seal floor, install 3/4 plywood use a top of the line moisture resistant wood glue ( read the bucket ) and nail plywood to cement floor and finally put roofing paper before nailing sold floor or if you want to get away from high cost of installing sold wood to cement floor. Engineered wood flooring is the best chose for any area of home from on grade to above grade glue down or staple down.
Types of wood flooring: Wood flooring generally comes as either strictly a solid wood or as a wood backing with a protective wood wear surface. (other words Engineered hardwood) Regardless of what type you select, another beauty of hardwood is that it can easily be re sanded, recoated and refinished. Which makes it a perfectly recycle able flooring choice.
Engineered wood flooring is built up of layers of wood. Called plies, that are glued together. This multi-ply structure gives engineered wood superior stability, greater than solid wood, which reduces concerns associated with shrinking and expanding when temperature and humidity change. Engineered wood can be installed below ground level making it a great choice for areas in home with moisture possibility, with out the high cost of moisture barriers.
Solid wood flooring: is 100% hardwood milled from lumber. As a natural material, hardwood reacts to changes in its setting, like moisture and extreme temperatures, which cause solid wood to shrink or expand. All solid hardwood can be sanded and refinished if needed over the years. Solid hardwood is not recommended for installation below ground level or in bathrooms.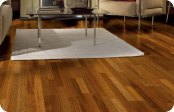 Copyright © All rights reserved
Top